Nature Research and The Estée Lauder Companies honor two initiatives to encourage girls and young women in the United States, Ghana, Nigeria, and Pakistan.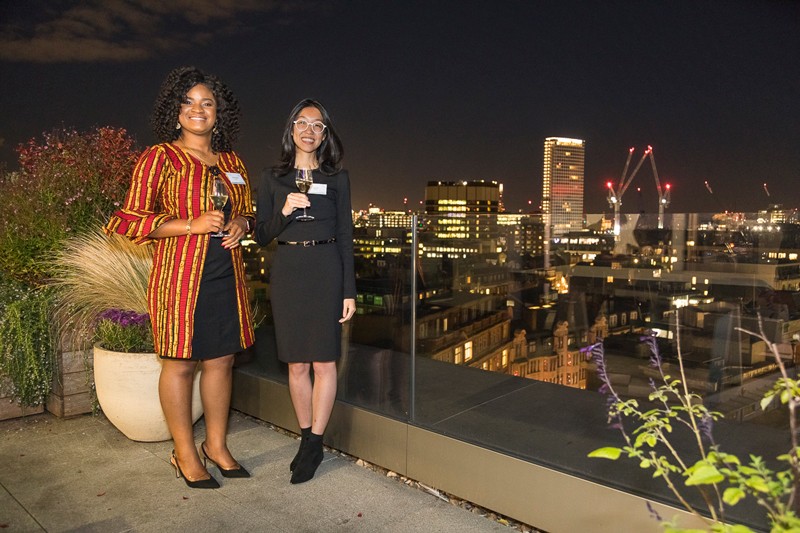 The second annual Nature Research Award for inspiring science and for innovating science has announced the winners for 2019. The two awardees are recognized for helping to inspire girls to pursue science careers by removing psychological, societal, and financial barriers through providing mentoring, equipment, and inspiration.
The awards, a collaborative effort between Nature Research and The Estée Lauder Companies in New York City, were presented at a ceremony in London on 15 October.
Jean Fan, a postdoctoral researcher in bioinformatics at Harvard University in Cambridge, Massachusetts, received the Inspiring Science Award for her research on methods to understand how cell types and states differ in genetic, gene expression, and epigenetic profiles, as well as for her outreach efforts — which include designing a customized picture book that shows girls what working in science, technology, engineering, and mathematics (STEM) fields looks like.
The STEM Belle, a non-profit organization based in Lagos, Nigeria, received the Innovating Science Award for projects that encourage girls in Nigeria, Ghana, and Pakistan to consider scientific careers. Its initiatives include academic awards for girls who do well in STEM classes and an inaugural boot camp for students and teachers that took place in August 2019.
Picture yourself in STEM
Fan, who works in a male-dominated, coding-heavy field, has surmounted challenges and stereotypes with every degree and grant award that she has earned. Early in her graduate studies at Harvard, she taught human biology to young girls in an after-school programme. As that school year drew to a close, she noticed that the girls would make stereotype-laden comments, such as "I'm not a maths person", or "I don't see myself as a scientist."
To change that, Fan designed a book with a customizable character, penning the words and creating the art, to show each girl how she might be a scientist. Matching the character's name and features to each student, she illustrated how those girls might look working as chemists, meteorologists, or veterinary physicians, among other options. "They really loved it," she says.
In 2014, Fan founded CuSTEMized, a non-profit organization in Boston, Massachusetts, to share her books. Teachers and parents have ordered e-books and printed versions for more than 15,000 children so far. The organization also holds hands-on STEM events in the greater Boston area. Attendees have, for example, built gliders out of paper and straws. Young female scientists — graduate students and postdocs — attend and share their career paths. "We have to really present our girls with tangible role models in real life," says Fan.
With the US$20,000 grant she'll receive as part of the award, Fan and the CuSTEMized volunteers will be able to provide more books free of charge to students in under-served communities, as well as developing a new book and apps.
Science boot camp
Doreen Anene, a Ph.D. student in animal science at the University of Nottingham, UK, is the founder and chief executive of the STEM Belle. Like Fan, she was one of only a few women in science courses when she was an undergraduate at Ahmadu Bello University in Zaria, Nigeria. "People made fun of us, doing things that girls shouldn't be doing," recalls Anene, who is currently a visiting scholar at the University of Sydney in Australia. When she visited schools in Ghana while working on a master's degree at the University of Ghana in Accra, she found that girls aged 11–12 had internalized stereotypes that science wasn't for them.
In 2017, she founded the STEM Belle to counter those stereotypes and to boost awareness of STEM careers, giving the organization the slogan 'Women and girls can be everything: Elegant in stilettos and confident in steel toes'.
The STEM Belle hosts career-awareness workshops, which feature women in STEM, for girls at six primary and secondary schools in low-income communities in Nigeria, Ghana, and Pakistan. It also sponsors achievement awards for female students at these schools; the awards cover a term's tuition at their school, plus educational supplies for girls who excel in STEM classes.
At this year's boot camp, The STEM Belle hosted 59 girls — past winners of the awards — and 13 teachers in Lagos for a week of STEM-industry tours and hands-on classes involving drones, 3D printers, and laptops. "For some of the girls, that was the first time they had touched a computer," says Anene. The group is also distributing equipment, such as lab goggles and calculators, to high-achieving teenage girls.
Overall, more than 1,450 girls have benefited from The STEM Belle's efforts so far. With the $20,000 grant from the award, Anene plans to expand the group's efforts to more schools and to train teachers in skills such as using Microsoft Office, coding, and building Lego robots. To reach all the girls coming through their classrooms, "we need to empower the teachers", she says.